TOGETHER WITH VEXVE TO LOWER OUR CARBON FOOTPRINT
Vexve Armatury Group together with Sfera Energy Solutions aims to be the leading provider of mission critical valve solutions in the transition to a low carbon future.
---
Even COVID-19 has not succeeded in halting the ongoing major change in the energy market, with a gradual shift from fossil fuels to gas and renewables. The EU is strongly committed to reducing emissions and aims to be a climate-neutral region by 2050. Part of the EU's comprehensive stimulus package's money will be used for the green transition which district energy is part of.
This is also reflected in Vexve Armatury Group's strategy for the next four years. We intend to be closely involved in promoting low carbon future by providing missing critical valve solutions.
District energy is playing a major role in the ongoing transformation of the energy market. It has been shown to be an effective way to transfer heat and can be easily connected to a variety of energy sources. In particular, its use will increase in Western Europe in the coming years.
Through our collaboration with producers like Vexve, we will continue to offer high-quality and efficient valve solutions for demanding operating environments in district energy. Through our operations, we help our customers achieve their energy efficiency goals and enable the wider use of gas and renewable energy sources through district energy.
Vexve actively reduces its carbon footprint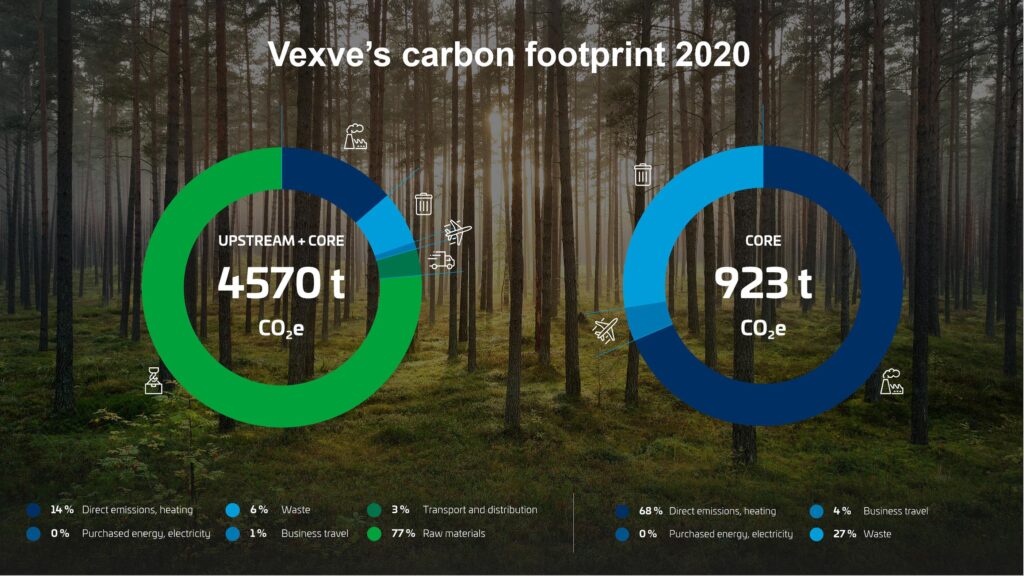 Responsibility and environment are strongly reflected in Vexve's operations and therefore also to Sfera Energy Solutions' ones. Last year alone, we reduced our carbon footprint by a quarter thanks to a greener energy choice. Our goal is to lead the way as we move towards a low-carbon future.
As a responsible manufacturer, Vexve wants to build a profitable business in an ecologically, socially and economically sustainable manner. One of the most important indicators related to this is the carbon footprint.
We made the carbon footprint calculation for the first time in 2019. It's realized annually with the help of calculators from two Finnish companies that are based on the Greenhouse Gas Protocol. The calculation takes into account the company's direct emissions (CORE) and emissions from the supply chain (UPSTREAM).
Vexve's CORE carbon footprint in 2020 was almost half as small as in 2019. The figure shows the impact of the pandemic (teleworking, lower heating costs, etc.), but also the positive development in our product structures and smarter energy choices.
A significant part of Vexve's direct emissions consists of factory heating and electricity, which is used to run the machines needed to make the valves. By switching to sustainably produced green electricity Vexve managed to reduce its carbon footprint by as much as a quarter!
We continue to work towards a smaller carbon footprint and intend to set more specific targets next year. Together, we can develop the entire industry in a more environmentally friendly direction globally!
CREDIT: Graphics and content by Vexve Armatury Group
Tags:
carbon footprint
,
district heating
,
energy
,
green energy
,
valves